Would you like to show your appreciation and support Bob and Pooki's mission?
We love bringing this "high-vibe tribe" community together and spreading a message of positivity, laughter, and love.
If your life has been positively impacted by what we do, and you'd like to express your gratitude, here are some ways to do that:
Donations can be sent using
Venmo:
Bob-Baker-13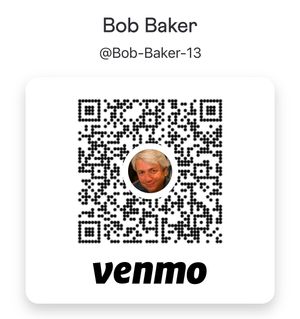 Or PayPal
https://PayPal.me/BobBakerSTL
If you'd like to get something while giving, here are some great options:
JOIN our Patreon community and get special perks, like a monthly private Zoom call.
Take a look at Bob's current list of online courses, such as:
If we're shipping to a US address, get an AUTOGRAPHED COPY of Bob's book, "The Power of Affirmations and Positive Self-Talk" and a copy of our "Opening Up to the Good" CD. Pooki can sign the book too!
​​Inspirational Pep Talks from Bob & Pooki! Enjoy this special collection of 8 MP3 audio files and 4 pages of printable affirmations and quotes.
Purchase some of our music here.
Check out these inspiring designs you can put on t-shirts, mugs, and more!
Thanks for your interest in our message and music!
BIG LOVE!
Bob & Pooki