3 Steps to Living a Big Bold Bodacious Life! 
A FREE three-day inspiration extravaganza with Bob Baker and Pooki Lee 
March 21, 22 & 23 
Starting at 8:00 PM Eastern each day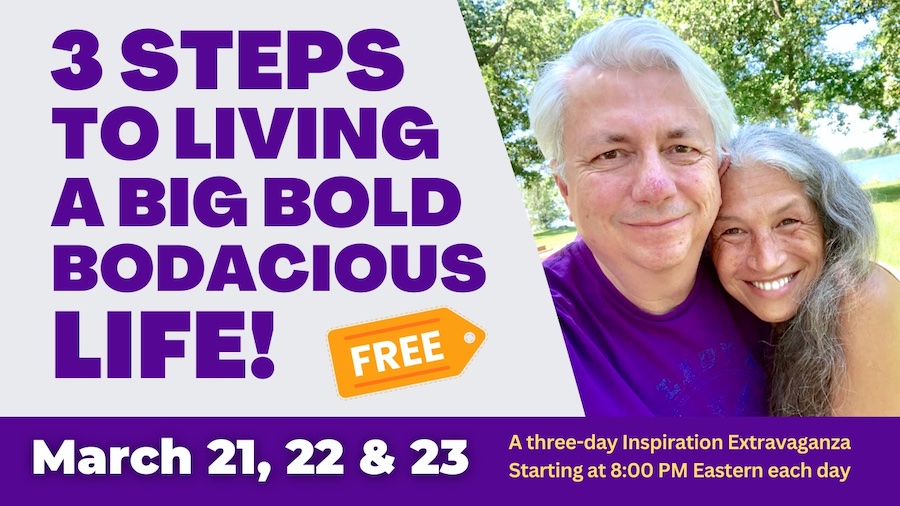 Are you ready to squeeze more out of life?
Do you ever feel stuck, or like you're just going through the motions of daily living?
We can help. Join us for this free, three-day online event.

In this inspiring series, we will share our three-step signature process for what we like to call living a Big Bold Bodacious Life!
These are the steps we both have taken to overcome numerous challenges and grow into authentic expressions of our true selves.
These simple but powerful steps are responsible for us impacting hundreds of thousands of people around the world – and having fun while we do it.
This is also the process we take people in our VIP Mentorship program through to achieve remarkable transformation and breakthrough success.
And you can attend all three sessions for free!

And yes, they will be recorded. If you miss any of the sessions, you'll be able to watch the replays for a limited time.
But it will be best if you can be there live as it happens.
NOTE: When you register, Zoom will send you a private link good for all three days. You'll also be added to an email list so we can send you reminders.
See you soon!
Bob Baker and Pooki Lee

Helping you rediscover purpose, passion, and play - and the joy of living a Big Bold Bodacious Life!